When it comes to design, we've come a very long way over the last 20 years. Today, we're more preoccupied with user experience than we've ever been. As our understanding of UX expands, so does the complexity of our roles in the field. 
Nowadays, you can come across a variety of titles like UX designer, UX architect, or UX analyst. While they pertain to the same field, they are by no means interchangeable. 
In this article, we'd like to look into what each of these roles entails and what their responsibilities are.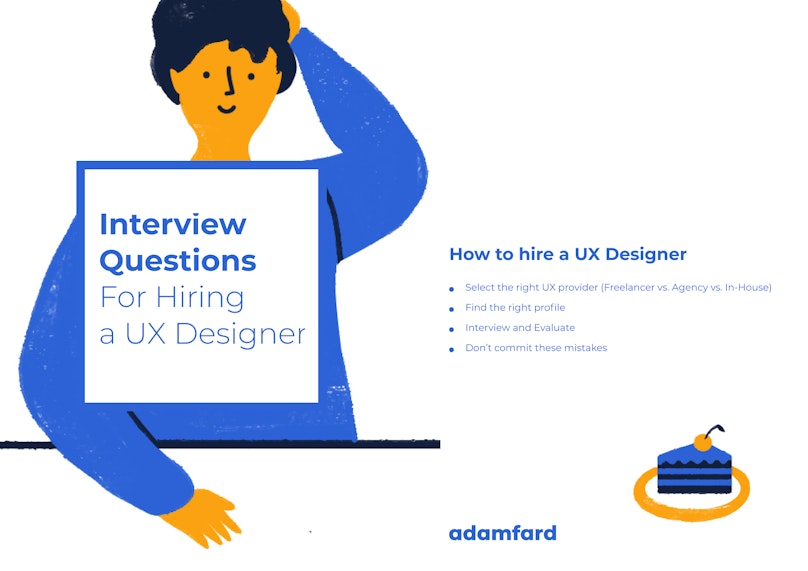 Free Template
Download UX Designer Interview Questions!
Here are 20 interview questions helping you to find the right candidate:
Download Now
Who is a UX architect? 
User experience architects (aka information architects) focus on creating an intuitive flow for products. To do that, they're often involved in interviewing and surveying users. Once they've collected all the essential information, they create prototypes and wireframes for the product. However, compared to designers, they have a more holistic view of the user's path. 
How is an architect different from a designer?
It's safe to say that the roles of a designer and an architect overlap to a certain extent. However, a UX designer's responsibilities mostly have to do with the visual aspect of a user's interaction with a product. An essential goal is to ensure that a product's components address a person's needs and expectations fully. 
Questions that are commonly asked by UX designers are:
What are the product's central objectives? 

What are the end user's needs, and how does the product address them?

What are the products' content requirements? 

What is the best approach regarding interaction design? 

How should we approach navigation? 
An information architect's responsibilities have to do with the fundamental aspects of a product's structure and its users' needs. They aim to connect the end-user with the information they're looking for.
They look for answers to more global questions like:
How can we ensure that information is provided in a user-friendly manner? 

What's the best approach to information classification and hierarchy?

What's the best way to organize navigation and wayfinding?
Why you should hire a UX architect
UX architects are focused on facilitating access to information

They ensure a crystal-clear understanding of your users' needs and how designers should address them

They solve important usability and accessibility problems

They have an extensive skill set and are efficient problem-solvers
The takeaway: UX architects are focused on the overall structure of a product. They have a more holistic approach to information compared to designers.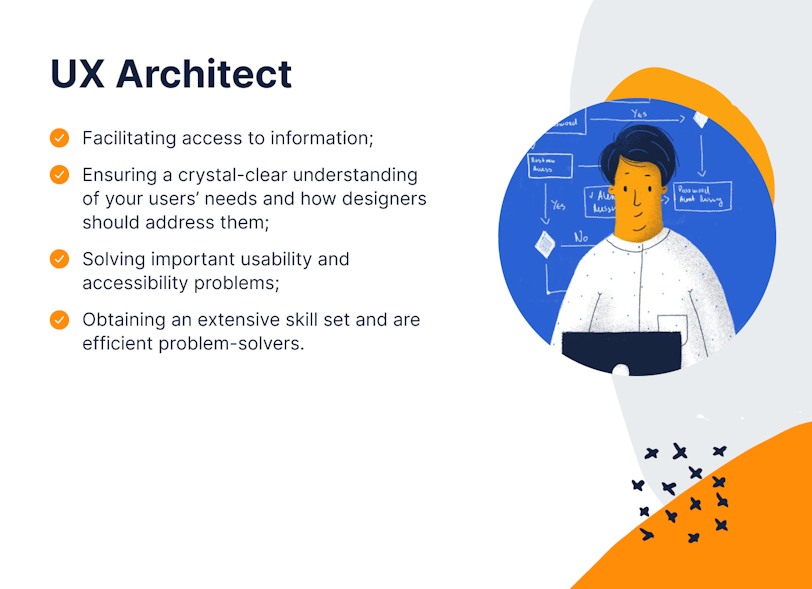 Who is a UX analyst? 
An analyst's role is also rooted in research. Their goal is to thoroughly study the users' needs and whether their clients' goals align with usability standards. By studying the product's customers, UX analysts establish the features that will help users reach their goals. 
Analysts are also preoccupied with users' success rate when it comes to executing specific tasks in a product. They're always looking for ways to improve the overall experience of a product and increase customer satisfaction. 
Some of the more commonly asked questions in this field are:
Can all the users perform a specific task?

How much time does it take them to reach their goal? How can we make this pathway shorter without damaging experience? 

How often do users commit errors? How can we decrease this number?

How satisfied are users with the product? Can we increase their satisfaction while keeping business goals in mind? 

How can we transform usability observations into meaningful changes? 
Why you should hire a UX analyst
UX analysts are focused on customer satisfaction

They extract actionable recommendations from studying users 

They continuously improve your product's usability 

They are naturally curious about the ways people interact with devices and look for means to make it more efficient and successful
The takeaway: UX analysts care about customer satisfaction. They're continually looking into ways to improve the product's usability and reduce user errors.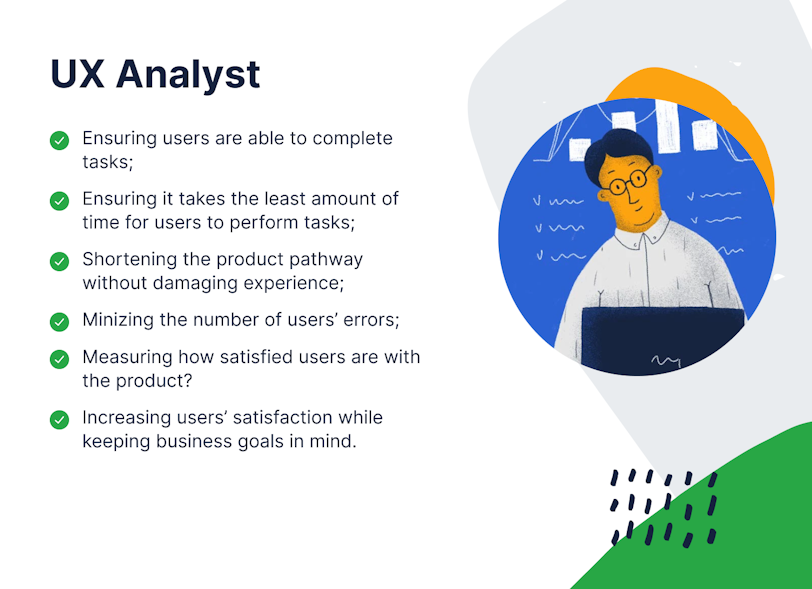 Who is a UX designer?
A UX designer's spectrum of responsibilities is fairly broad. They care about making products usable, accessible, and enjoyable. In most business settings, they'll be the only person advocating for users. 
Compared to UX architects and analysts, designers are one the frontline of crafting a usable product. At the end of the day, they are the ones making decisions about how things are structured. 
Why you should hire a UX designer 
They care about the end-user's needs and your product's objectives

One of their central focuses is usability, along with making products useful and enjoyable

They care about your product's efficiency

Their expertise in user experience helps your product convert significantly better
The takeaway: a UX designer is a fundamental role that encompasses a variety of fields. Of the three, they are most preoccupied with the visual aspect of things.  
Further reading: How to hire a UX Designer [guide]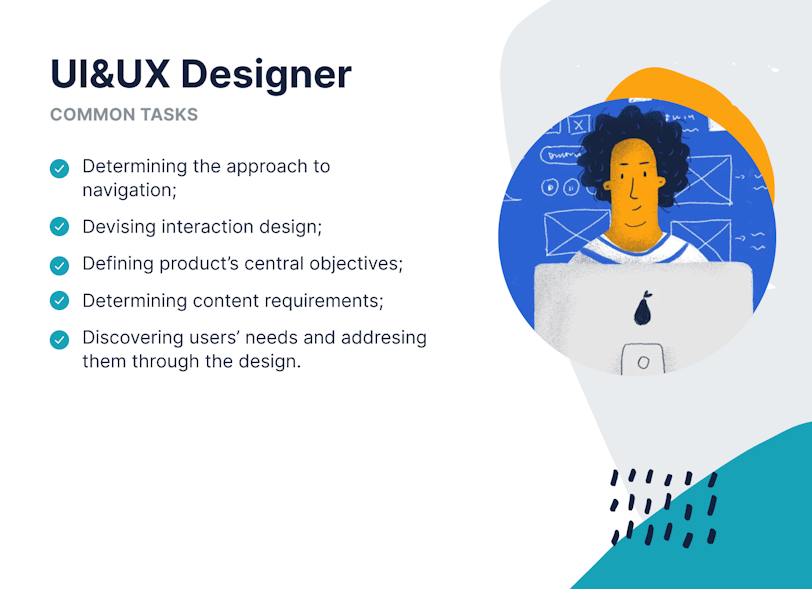 Are these classifications still relevant?
In many settings, a UX designer's responsibilities overlap with the ones of an architect or analyst. It's very complicated to draw a line in the sand and establish a "no-go zone" for either one.
This is especially relevant in startups when businesses can't afford to have a full-on user experience team. UX designers will sometimes have to make decisions about architecture and customer journey, as well as visual design.
The breadth of a UX specialist's duties is often defined by the product, the budget, and the company they work in. This means that you can be heavily involved in user research if your company doesn't have an actual UX researcher. Sometimes, designers write UX copy, if the company can't afford a UX writer. 
It's best to think of each role as a person that is oriented towards a specific aspect of UX but never limited to a set of particular things.
The bottom line
It's essential to underline that these roles are by no means interchangeable, despite the overlap. If you're a company looking to hire a user experience specialist, carefully analyze the array of issues that need to be addressed. 
Need help with preparing interview questions? Get our free template.