Pitch decks are often the defining factor that will sway angel or venture capital investors in your favor. A deck's function is to tell a complex, yet very compelling story about your business, its goals, and the philosophy behind it. 
People who have been involved in raising capital are well aware of how straining this process is. Every small detail counts.
In this article, we'll analyze the structure and kinds of investment pitch decks and the rationale behind them. More importantly, we'll provide you with an editable template and 20 successful pitch decks for inspiration and reference. 
What is an investment pitch deck?
A pitch deck is an overview of your business that allows you to showcase a product, a business model, a novel approach, etc. 
It's important to mention that your deck doesn't raise money per se. Rather, its purpose is much more subtle — to tell a compelling and captivating story. 
Very often, your deck will be the very first thing your potential investors will interact with when learning about your team and product. This is precisely why perfecting this crucial touchpoint is always a good idea. Creating a strong first impression matters a lot. 
When do you need one?
It's a good idea to start working on a pitch deck when your business starts getting some traction. You obviously need to interest investors by showing some proof of concept. The point is to show that your business idea doesn't just work on paper.
There are, of course, occasional exceptions to this rule.
What goes into a pitch deck?
Let's take a look at the critical parts of your deck and how you should go about structuring them. 
1. Cover 
While this is the slide that communicates the least amount of information, it should never be overlooked. 
The cover slide is meant to set the tone for your deck as well as establish a motif. 
Your cover should contain the name of your company, its logo, and your company's tagline. 
Here's a reproduction of AirBnB's pitch deck's cover. Notice how the company's tagline sets the tone of the conversation. This is where your audience is initiated into the gist of the problem you're trying to solve.
2. Problem
Businesses aim to solve problems. This is especially true of startups, which are characterized by finding innovative solutions to pressing issues.
The bigger the issue, the more income its solution can bring. This is the crux of your "Problem" slide. Here, you need to very clearly outline the key problem that the current market is not addressing. 
Focus on two or three points. Try not to overcrowd this slide with bullets. Short and straight-to-the-point sentences that are devoid of niche jargon will sound more compelling and will help your audience engage with the issue at hand.
Here's an example of a Problem slide from Uber's 2008 pitch deck: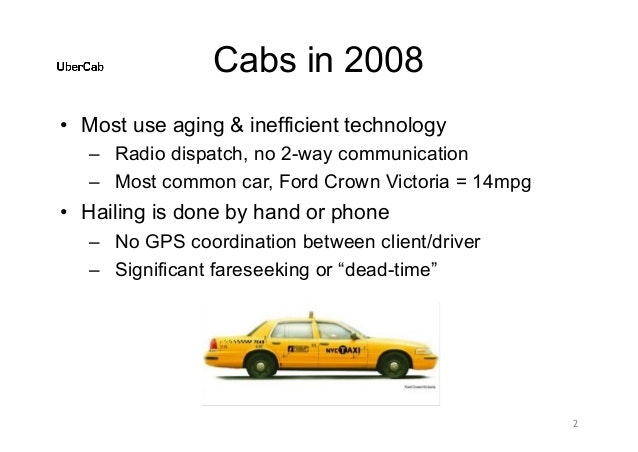 3. Solution
Naturally, this is the moment where you provide your audience with a solution to the aforementioned set of issues. 
Your goal here is to be brief and confident. But bear in mind that investors are seasoned businesspeople — tread carefully around claims of uniqueness and exclusivity. Chances are, other companies are attempting to do what you're doing.
Your focus here should be on how quickly you can scale and deliver your services. At the end of the day, this is what drives profit. 
Here's how Intercom approached this slide: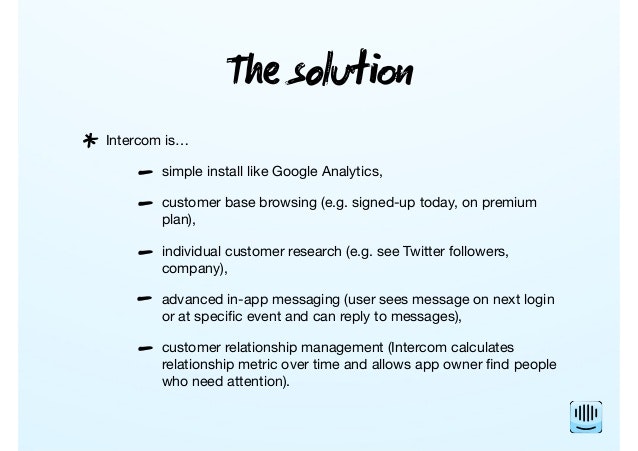 4. Product Demo
In this slide, your goal is to clearly communicate what your product consists of and, ideally, showcase a demo of it. This is a great way to show that the solution you've put forward in the last slide is within a hand's reach. 
When running a demo of your product, focus on the following things:
Its key features and how they help users;

The reason users would be interested in it;

The milestones that have been reached and the ones your team is currently working on;

The product's key differentiators;

The features you're planning to add to your product; 
AirBnB's Product slide is a very straightforward representation of the user flow throughout the service. It also features the currently existing designs of their pages. While fairly simple, this example makes the product appear "real" and able to solve real-world issues. 
5. Market Size
While problems and solutions sound great on paper, it's essential to communicate the size of the market you're addressing. 
Generally, the market size must showcase the approximate number of customers multiplied by their lifetime value (LTV) along with other relevant market metrics. When speaking about the addressable market, focus on the potential your business has to scale. 
Here's how Mint approached their Market Size slide: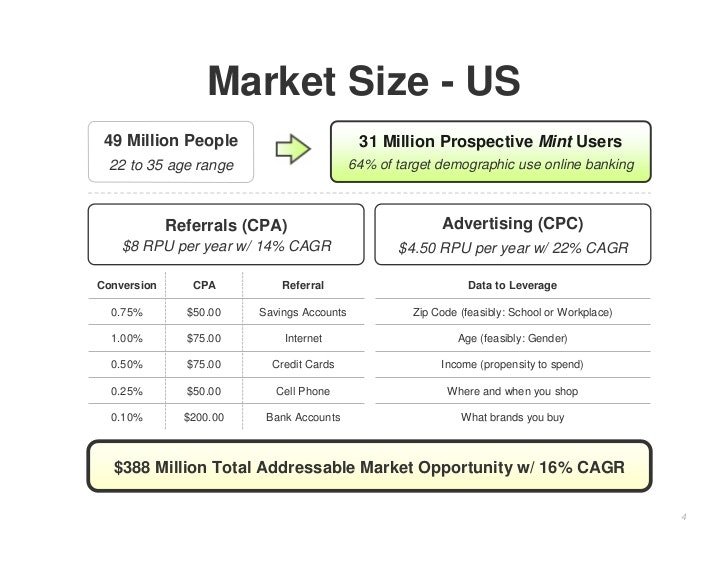 6. Business Model
Now that you've showcased your product and the market it's going to exist in, it's time to talk money. Specifically, how your business will generate income, what the logic is behind your pricing, marketing expenses, etc. 
Your business model, of course, should be very tightly connected to your market. Every number you bring up must be backed by strong arguments, rooted in your market research and a strong understanding thereof. 
Here's a very straightforward, yet intelligible Business Model slide from Enlive.io: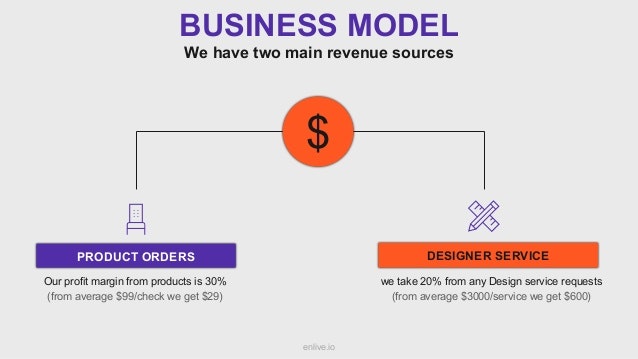 When speaking about your business model, consider adding some extra information on the following things:
What is the long-term value of a customer?

What are the customer acquisition channels and costs?
7. Competition
The Competition slide is meant to communicate the strengths and weaknesses of your peers on the market. However, don't hesitate to use this information to highlight your competitive edge over your competition. 
A good understanding of the landscape will show investors that you're objective and informed. 
Buzzfeed's Competition slide very cleverly shows how it's the best of two worlds, by combining the two: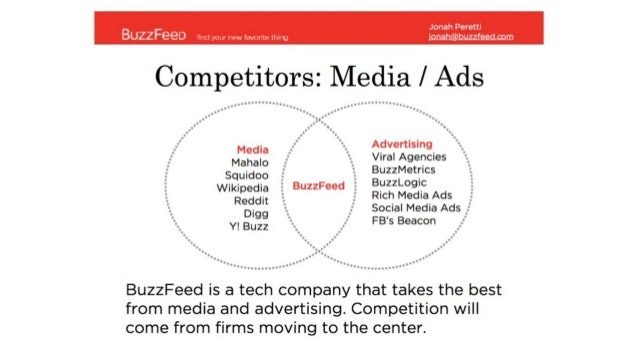 8. Team
Your focus here should be oriented towards the expertise of your core team members. Explore what sets your team apart from the rest and why it has the right skill set to make your product successful. 
When describing your team members, consider including the following information:
Their photos (a smile goes a long way);

Their titles;

A short summary of their expertise, experience, and prior employers;

A list of advisors or consultants participating in the project;
Here's how MapMe presented its core team by highlighting their prior employers: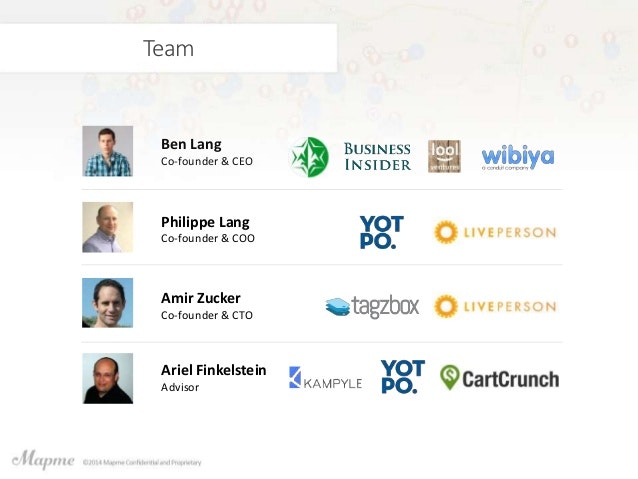 9. Traction
Your Traction slide is all about validation. Here are some important things you need to look into when summarizing your traction:
Relevant stats — sales, traffic, app downloads, growth metrics, and so forth;

Valuable partnerships and collaborations;

A way you're looking to amplify the traction you've gained so far;

PR success;

User/Customer testimonials;
Here's how SteadyBudget approached this slide: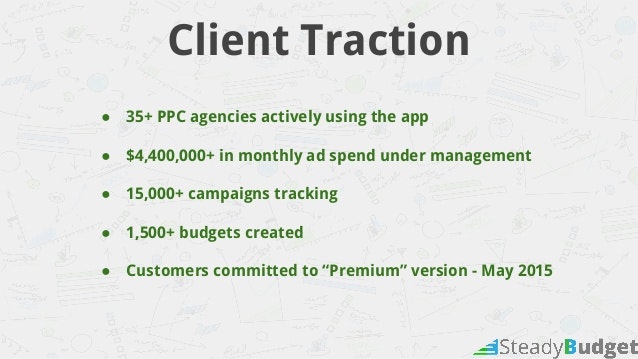 Structure your pitch decks accordingly
There are two kinds of presentations: 
Face-to-face or via a video chat — these presentations should be visually lighter while allowing you to do most of the talking. You can use tools like Canva and Figma to create compelling presentations. 

E-mail presentations — these presentations are, of course, more text-heavy. Focus on providing as much information while remaining concise.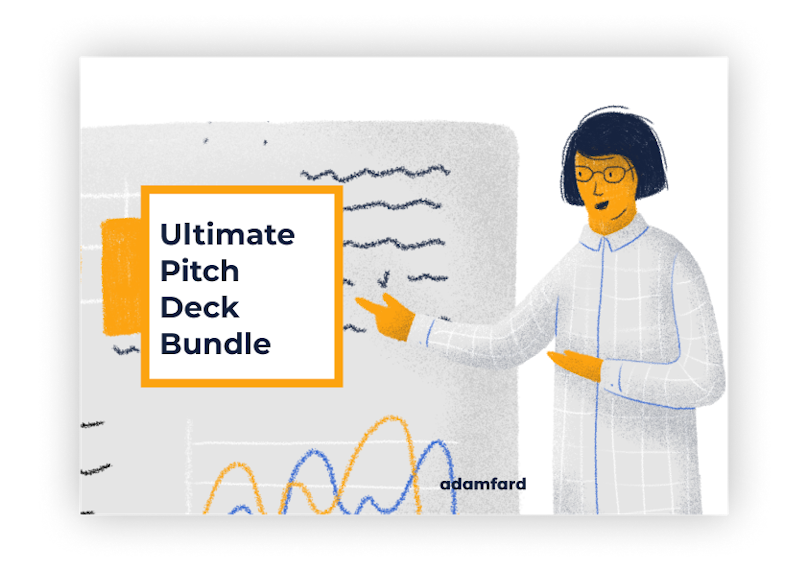 Free Template
Startup Pitch Deck Bundle
Check out our free editable pitch deck template accompanied by the 20 examples of successful pitch decks:
Download Free Bundle
The wrap-up
An investor pitch deck that can impress and engage will take your company and product a long way. Don't hesitate to spend some more time over creating a coherent and cohesive story while using your deck to support it. 
Good luck!