A couple of years ago, Statista predicted a big revenue rise for mobile apps: $188.9 billion by 2020. Now that we have entered the actual year, their predictions sound quite accurate.
Here comes the best part. The revenue is expected to jump to $258.2 billion by 2022!
Apple Store and Play Store currently have almost five million apps available for their users. These incredible numbers speak of the importance and demands of apps in today's online market. However, despite this considerable mobile app growth, many mobile apps get uninstalled quickly after being chosen.
Can you guess how many apps are uninstalled within 30 days?
The correct answer might shock you. According to AppsFlyer, almost one in every two apps installed is uninstalled within a month. This makes the app design process a rather challenging one and not only because of the big competition. People don't seem to retain their interest in most apps, which means that developers must desperately seek a better UX strategy to keep the interest alive.
What does this mean for you?
It means that you need to grow an app from scratch and keep it alive. Your task is not only to beat the competitors and attract users who are willing to download your product but also to grow the users of the app and make them want to use it on a regular basis.
This isn't easy but don't despair. There are things you can do to influence user behavior through a quality app growth strategy. These are strategies we have used successfully for our clients. 
How to grow an app business: Mistakes you should avoid
1. The app is too complex to use
You can have the greatest idea for an app but still, fail to make users interested. Many startups share the same problem.
When you create an app for your business, you're aiming to make something unique to pique interest with users. This is what makes you stand out from a big competitor, and it is definitely a fine move.
Below, there's an example of an interface that's so complex that it probably requires special training. Unless you're selling to enterprises, who are used to such complex solutions, having a similar degree of complexity is a death sentence to user retention.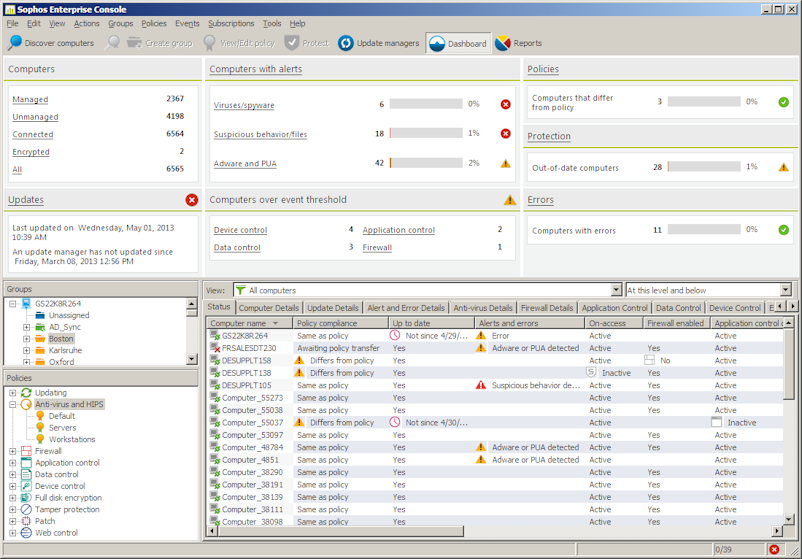 But even though your app should be unique, it should not be hard to grasp.
Solution:
If you want to learn how to make an app grow, you need to approach it from the stance of the user. An app with unique features and functions is a great thing to have, but having one that overburdens and overwhelms is simply not worth a user's time.
User research is the antidote to redundant complexity. While conducting user research you will learn plenty of things about your target audience: what they need, what apps they usually use, what problems they need resolved, etc. Based on this, create an app that serves one primary purpose and introduces new features as the app progresses, rather than clutter it with tons of complex features.
2. Low retention rates
Many app developers avoid notification permissions or communication with their users because they are afraid of uninstalls. The uninstall rate is scary, but you can't cut all ties with your users once they've downloaded your app.
When people try to act on the issue of how to get an app to grow, they focus on attracting new users and forget about the ones who already have the app. User attention is constantly challenged by the competition, which is why the retention rates of apps decline when you don't take action.
Solution:
People don't like aggressive notifications and constant messages, but if you provide them with a smart and interesting nudge every once in a while, they won't forget about your app.
For example, Mailchimp uses a personalized message to nudge the user to take action. Their welcome page features a welcoming text where they call their users by name to attract their attention.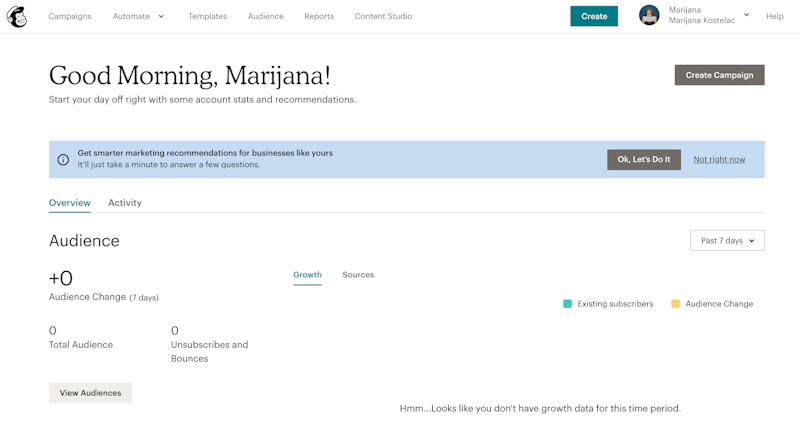 3. Not following up on referral leads
Referral programs are systematic ways of convincing users to make referrals to your app and business. This is a type of word-of-mouth online marketing since you're incentivizing people to download your app and take action that would boost your business's success.
Offering referral incentives is an excellent strategy for increasing your app base. There are plenty of examples from companies that grew significantly thanks to such incentives, but only because they did things right.
Solution:
One of the reasons this might not work as planned is because you didn't follow up on referral leads. The best idea is to highlight your referral program for new users but also hook up the existing ones with a fine reward strategy.
Make your initial contact when your clients have just received or started using your app/product, and ask for a referral. This could be after their purchase or a new product promotion you had in place. Once you get your first referral, send a thank-you message as soon as possible. Then, check-in a week later to answer any questions if needed and ask how it is going with the product. You can reach out to them every other month to see how its going, inform them of new promotions and offer various discounts and other incentives.
4. Not targeting new users
When your strategy works well, you will experience growth in users who download your app. But after a while, this growth will start staggering once you hit the limit of your target audience. It becomes a real challenge to target new people.
Solution:
This is where you need to tweak your product strategy and spread the limit on the niche audience.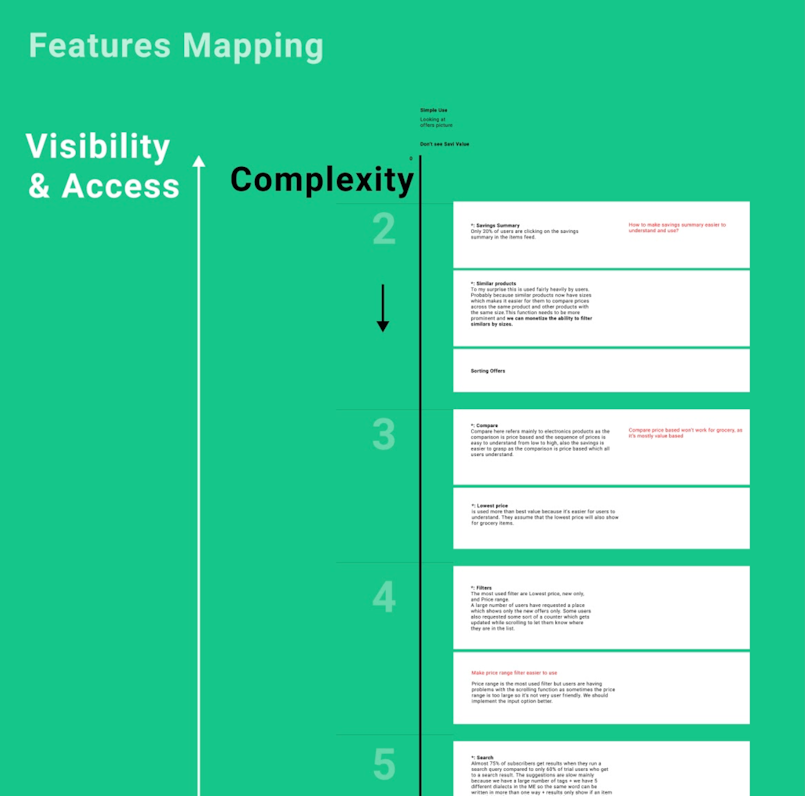 We mapped a Shopping App features in order to target a new audience and onboard them with specific functionalities
Do proper user research once again and plan features and design around the needs of your widened target audience. But don't make the mistake of forgetting about your current users. Your new strategy should include them, as well as a wider scope of the target audience.
5. Download numbers are low compared to website visitors
Do your analytics show that you have many more users on your website than you have for your app? This means that you don't have a proper growth strategy for your app. People simply don't know that you have an app available.
Startups make the mistake of leaving users to find their app. Publishing it on the store is just the first step.
Solution:
Take advantage of all assets to promote and market your app. Post a link to it on your website, find a way to promote it online on forums and other sites, etc. Make it easy for the user to access the app with a clear call-to-action. Here are a few fine examples of how this works.
Wrapping up
You have probably read a lot about building apps from scratch and optimizing your app store presence. But if you really want to learn how to grow an app, you need to be prepared for problems that may occur along the way. Certain mistakes can cause you the loss of many, if not all of your users, regardless of the quality of your design or idea.
So, if you were wondering why your app retention rate is so low and why your success is staggering in this field, these are five things you should definitely avoid moving forward.